Progressive lenses, also called "no-line bifocal", offer vision aids for people who need vision aids for different vision areas. Commonly, progressive lenses are used by people who over 40s. Compared bifocal lenses, progressive lenses offer people a younger-looking because there is no visible line on lenses. So, with progressive lenses, others can't tell if you wear glasses for fashion or vision problems.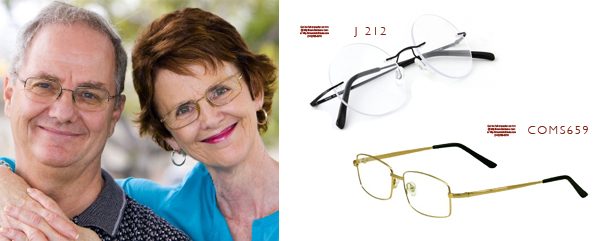 To some extent, progressive lenses have the same function with bifocal lenses. Progressive lenses are inspired from bifocal lenses are more superior to bifocal lenses. Firstly, the cosmetic advantages over bifocal glasses. As it is mentioned above, progressive lenses look the same as regular lenses that give older people a young-looking. Secondly, the progressive lenses provide a more natural correction for users than bifocal or trifocal lenses. Different from bifocal lenses, progressive lenses provide a seamless progression of many lens powers of all viewing area. With progressive lenses, you can see clearly from a room to the yard or even far away. Finally, with the development of new technology, modern progressive lenses are easy to be adapted with image-jumping like bifocal glasses.
Although there are so many advantages of progressive lenses, attentions should be paid for choosing the best suitable progressive lenses according to your vision needs. Commonly, most of people use it for correcting presbyopia. However, different people use the progressive lenses differently. Some of them are specially made for computer use, or some of them are specially used for reading etc. So, there are differences in lens design that are related mainly to the length and width of the progressive power corridor. So, you shall buy progressive lenses according to your needs.
Nevertheless, you still need to know that you need sometime to adapt to your progressive lenses. Especially for people who first wear progressive glasses, they need a shot adaptation period. Some people may takes a few days, but still some only takes a few minutes. Anyway, as long as adapt to the lenses, you can enjoy a clear vision in all distance.