Horn rimmed glasses are a type of eyeglasses, which have been well received since they were born, though their popularity was supplanted by sturdier metal styles and some other styles temporally. You can imagine their shapes according to the name. Actually, at the very beginning, as the original definition refers to, horn-rimmed eyeglasses literally are eyewear products which are made of horn or tortoise shell.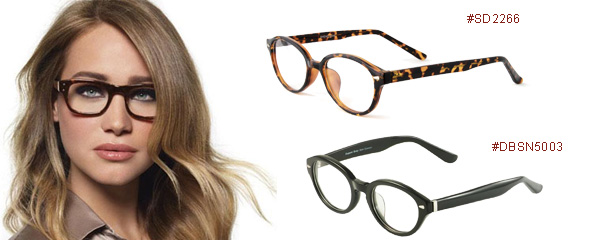 Horn rimmed glasses began their glorious days from 1917 after they were first worn by a comedian named Harold Lloyd. Interesting it may sound, The glasses have enjoyed various periods of popularity throughout the whole 20th century, being considered especially fashionable in the early 1900s and in the 1950s-1960s in particular. Stealing the thunder of other styles, once more, the style embraced quite a renaissance in the late 20th and early 21st centuries, proving their everlasting enchantment once again.
We can find out that the modern definition of horn rimmed glasses is quite wider and kind of different than the original one. When you think about the raw material, they are not limited to horn and tortoise shell, but expand to plastics in diverse kinds. When referred to the description of them, more words can be involved. Since the definition is not that strict now, many of the eyeglasses can share the name horn rimmed glasses. Yet, the reasons for the change, either in material or other aspects are traceable. On top of any other, the reason is about money. All the manufacturers all over the world have been trying to find cheaper material all the time. Also, people now wear glasses not only just for a clearer world, but also for more attractive appearance. Some trend followers wear the glasses without prescriptive lenses, which are also known as fake eyeglasses. The glasses are purely used as a fashion statement.